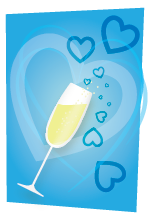 It's time for a bit of celebration!
February marks the sixth consecutive monthly release of Iowa Decanted, and we have had a blast so far.  Among the many things that makes this pursuit worth our while is the incredible response we've received from our readers.  We've met many new friends and fellow wine enthusiasts who share our passion for native wine and Iowa pride, and they've been nothing but encouraging.  To our readers, followers, fans, and friends I raise a glass.  Thank you for your support.
To commemorate our six-month milestone, we decided to do things a bit differently for this month's issue.  In place of our regular features you'll find pieces submitted by members of the Iowa wine industry detailing their take on the industry and where they feel it needs to go.  Each of our guest writers is a mover-and-shaker in his own right, so we're very pleased and honored to bring their opinions to our readers.  We hope you'll find them illuminating.  Click on the links below to read each piece.
The month of February also marks the beginning of our fundraising period.  As you may well have noticed, Iowa Decanted does not sell ad-space or charge subscription fees as many traditional publishers do, instead we rely on the generosity of enthusiasts, fans, and industry members to be able to do what we do.  We have been graced by the support of a number of generous folks, in the form of bottle donations, event entry, and direct monetary support – but in order to sustain our operations and fairly compensate our staff, we need to ask for your assistance.
Help Iowa Decanted continue its operations by becoming a supporter now.  Help us in our mission to develop and strengthen the native wine industry of Iowa.  It's as easy as purchasing a support banner.
With your direct assistance we'll be able to continue publishing quality content which not only informs, but educates our readership.  We'll be able to continue supporting the growth and outreach of the native Iowa wine industry and help develop a strong foundation of consumer awareness and industry accountability upon which the future will be built – and all we need is your support.
Help us build a better tomorrow for a developing industry.
Thank you.