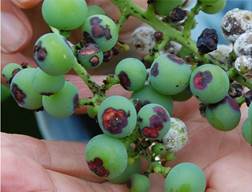 Anthracnose on grape berries. (Photo: Patty McManus)
Every experienced grape grower knows that good disease management program is a crucial component of growing high-quality grapes.  Early season control is especially important, as flowers and small berries are quite susceptible to powdery mildew, downy mildew, and black rot.
Because cold-hardy grape cultivars are still relatively new, we're still learning about the different cultivars' resistance and susceptibility to the range of grape pathogens.  Therefore, one of the objectives of the Northern Grapes Project is to evaluate disease resistance and the cultivars' susceptibility to copper- and sulfur-based fungicides.
Below is a list of resources that will help you build an effective disease management program.
Grape Disease Management Basics (and All About Anthracnose) by Wayne Wilcox, Cornell University and Patty McManus, the University of Wisconsin.  April 10, 2012 Northern Grapes Project webinar.
The Disease Management Puzzle: Putting the Pieces Together by Dean Volenberg, University of Wisconsin Extension – Door County.  June  4, 2013 Northern Grapes News (Vol. 2, Issue 2).
Grape Disease Control, 2013 by Wayne Wilcox, Cornell University.  A rather lengthy document that contains an update and review of how to control grape fungal diseases in the east.  (Will updated this link with the 2014 version once it's released.)
The 2014 Midwest Small Fruit and Grape Spray Guide.  Contains general guidelines to use as you develop your grape spray program.  Also has information about fruit grower newsletters, pesticide drift, plant diagnostic lab listings, and much more.
Article and resources courtesy of the Northern Grapes Project.