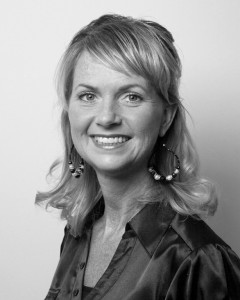 A native of Shueyville, IA, Lauren Chalupsky-Cannon graduated from the University of Iowa and relocated to Scottsdale, AZ. She spent eight years working for Hyatt Resorts, where she developed a great passion for hospitality and wine.  She pursued her wine studies through reading, tasting, and many trips to wine country.
In 2004, Lauren returned to her hometown and opened her dream business: The Secret Cellar. In addition to operating her wine shop and hosting numerous fundraisers for local charities, she also has designed and teaches wine education classes–pairing wine tasting with food, dancing, golfing, and even painting!
She has completed the Level I Sommelier Course and Exam and is currently studying for the Certified Level II Exam.
She has also earned a judging seat alongside Master Sommeliers at the Mid-American Wine Competition. She writes articles for wine publications, awards medals at the Iowa State Fair Wine Competition, and serves a seat judging wines for Iowa's first VQA (Iowa Vintners Quality Alliance).
Iowa Decanted recently got in contact with Lauren and asked for her perspective on a few questions.
Iowa Decanted: What is the most common misconception about wine you come across with your students and clients?
Lauren Chalupsky-Cannon: Running my wine shop for the last 8 ½ years, I have had countless people walk in the door apologizing they have not stopped in sooner because they "didn't know much about wine". There seems to be an idea you must study regions, styles, and wine making in order to be a qualified wine-drinker. That's a huge misconception. Plus, that's my job: to study the amazing wines out there, and then ask you the right questions so I can recommend something perfectly suited for you.
ID: What is the most common misconception about Iowa wine you come across?
LCC: The most common comment I hear about Iowa Wines is "I don't like them since they're all sweet". This is ironic, since an Italian wine that owns a large market share right now (I sell a ton of) happens to be one of the sweetest wines around! Even so, not only are Iowa wines made both sweet and dry, but I it seems people don't think it's "cool" to like Iowa wines. I tell them to keep an open mind and keep tasting and trying. Grape growers are experimenting with new grapes very year, and wine makers are also bravely trying new styles and techniques.
ID: When a client comes to you to ask for help choosing a wine, how do you go about finding something they will enjoy?
LCC: Everyone has had (or at least heard of) an intimidating wine shopping experience. Egads. Bottom line: my goal is to help you find something you will be happy with. I usually start with: What are you buying the wine for? Is it a gift, to pair with food, to find something new, etc. That helps me get in the mindset of the shopper. Then  I can go deeper and ask: What wine(s) you have tried in the past and really liked? Are in the mood for sweet or dry? White or red? Do you want to stay in a set price range? I often have a bottle of something open and can give a sample. Your reaction will help me understand your palate better so I can recommend a great fit. I love serving people. It makes my day hearing stories about how much my recommendations were hits!
ID: Is is said, especially among wine professionals and enthusiasts, that particular regions can lend certain characteristics to their wines.  What are the characteristics of an Iowan wine, if any?  If there are none, can you explain why?
LCC: No doubt grapes from different regions carry different characteristics. A lot of people ask me why Iowa vineyards grow grapes they've never heard of. Iowa's climate is unique in we grow cold-hearty grapes, not traditional Viniferia like Merlot and Chardonnay. That being said, most of the traditional cold-hearty grapes we grow here have a sweet musky-like fragrance. The easiest way to recognize it is from the grapey-sweet aroma you smell in Concord Grape Juice. However, grape growers are now experimenting with so many new hybrid products, I have tasted (and judged at the Mid-American wine Competition) countless new wines which you would never peg as a made from a cold-hearty grape. Another valuable component in Iowan grapes is a relatively high level of acidity, which makes them perfect to pair with foods!
ID: If you could distill wine and food pairing down to a single sentence, what would it be?
LCC: Students from my Wine 101 Class will giggle about this one, because I use two words: "Magic Sauce". It is produced when wine and food mix together on your palate to create a new blend of multi-layered, harmonious flavors which blow you away.