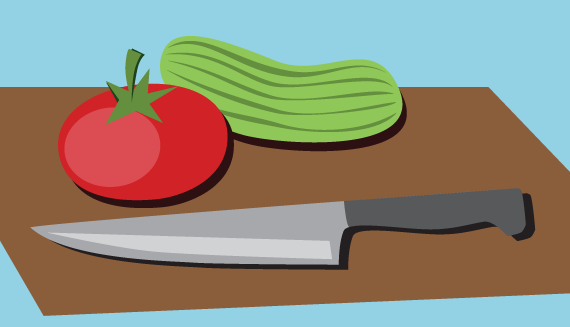 Morgan Hoenig, of MoGo Organic in Mt. Pleasant, provided this recipe, featuring produce easily found in Iowan gardens.  "It's a good recipe for this time of year because many people are overwhelmed with tomatoes and cucumbers in August," says Morgan.
Tomato and Cucumber Salad with Pita Crisps
2 parts cucumber, chopped
2 parts tomato, chopped
1 part onion, chopped
2 splashes of red wine vinegar
1 splash of olive oil
salt & pepper to taste
Mix in bowl.  Let flavors meld together for an hour or so before serving.
Best if allowed to sit over night.
Pita Crisps
4 whole wheat pita breads
olive oil cooking spray, or extra virgin olive oil
coarse salt & ground black pepper to taste
Preheat oven to 425F.
Cut pitas into 4 triangles each. Separate each triangle into 2 halves at the fold. Arrange, rough side up, on a baking sheet. Spritz lightly with cooking spray or brush lightly with oil. Sprinkle with salt & pepper Bake until crisp, 8 to 10 minutes
Pairing Tip
Experiment and try this recipe out with lighter-bodied wines.  The acidity of a dry Edelweiss will fare well with the balance of the dish, and the fruit-forwardness of the varietal should complement the bright cucumber flavors as well.